I'm technologist and painter and I enjoy to collaborate with people all around the world. I currently lead the foundational software development and strategic technology efforts at Product Field Works.
I've got a strong sense for the levels of quality and process that are fundamentally required when building large software projects. I'm convinced that how we create software today can still be improved.
In technology we're faced with complexities that can only be navigated and solved together from different perspectives: Enabling well connected, functioning interdisciplinary teams is one of my main focuses. Collaborating on eye level and in partnership with the people I work with, is especially important to me.
Experience
Product Field Works, Chief Technology Officer, since 2020
Atelier Disko, Chief Technology Officer, 2013 – 2019
Radify, Senior Software Engineer, 2011 – 2013
Independent Contractor, Software Developer, 2008 – 2011
Engagements
dpa, Fielmann, Wikimedia Deutschland, Deutsches Elektron-Synchrotron DESY, DZ-4, OTTO, ByteFM, ZDK Gesellschaft Demokratische Kultur gGmbH, Cleptomanicx, Kleiderei, Freie Universität Berlin, Grand Hotel van Cleef, Jugendhilfe e.V, Kunstverein Harburger Bahnhof, Tocotronic, Universal Music Group
Education
Hochschule für Bildende Künste Braunschweig, Meisterschüler of Fine Arts, 2010 – 2011
Hochschule für Bildende Künste Braunschweig, Diploma of Fine Arts, with honors, 2004 – 2010
Talks & Appearances
This lists my talks and workshops, as well as articles that feature projects I've participated in or lead.
Where do you build a Design System?, (Slides), UXRoundtable, uxHH, Hamburg, Germany, 2018
Where do you build a Design System?, (Slides), Design Tools #1, Hamburg, Germany, 2018
Where do you build a Design System?, Go User Group, Hamburg, Germany, 2018
Code+Design, Hamburg, Germany, 2018
Coding Design Systems, (Slides), Techcamp 2018, Hamburg, Germany, 2018
Visual Interface für Audio-Web-App, Page 08.2017, 2017
Publications
In my early years I've been publishing some essays in the art space. Since 2010 I'm mostly writing about technical things and am the author of uncounted release announcements.
Important Side and Open Source Projects
During my studies I was often contacted by colleagues who asked for websites. That's when I founded NPIECE, a portfolio hosting platform, and started the development of it in 2008.
I've discovered CakePHP (a web framework, which was just getting big as part of the hype that followed Rails), while looking for a technological basis. It still needed some work, to make it useful for the purposes of my startup. To me this was also a chance, to contribute to something impactful.
After submitting patches that improvemed the framework, I was accepted into the project as a Core Developer in 2009 and continued in that role until 2010. I'm still very grateful for the time and colleagues I've met.
After CakePHP came li₃ ("the Jimi Hendrix of frameworks"), founded by the former Lead Developer and Product Manager of CakePHP, who I've followed onto the new project: First as a Core Developer from 2009 to 2016, then starting in mid-2016 as the Lead Developer of the framework.
While designing the globalization package of the framework, I've created Gettext PO/MO loaders for PHP. And I was glad to see, that these have been imported into Symfony (another popular PHP framework), where they are still in use today.
During the foundational years of Atelier Disko (a digital agency) I've built B-Series, an Open Source CMS and eCommerce System, which became the basis of nearly all client projects of the agency. With growing needs in the years that came after, we've built developer, workflow and infrastructure tooling.
Since 2018 and together with Christoph, I'm co-created DSK (an Open Source workbench to build design systems). Its principles and our journey are described here.
Contact
You can reach me via email. Phone calls can be arranged, too. For encrypted communication download my OpenPGP Key. My fingerprint is 761C 8678 F151 EE60 5442 1D47 C26D F2F1 18E6 34F4. Follow me on Twitter, fork me on GitHub or connect with me on LinkedIn.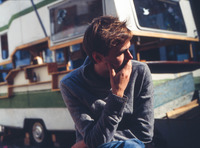 "We are creating technologies - then we are the technologies: Your heart is not LIKE a pump, your heart IS a pump. It's not like your brain is like a computer, it is a computer. Until the next thing comes along: Now you're a neural net or now you're an information system."

John Brockmann in an interview with Lutz Dammbeck, Das Netz, 2004